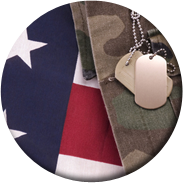 MILITARY and VETERANS CORNER
Chiropractic care is included in the Medical Benefits Package, the standard health benefits plan generally available to all enrolled Veterans. It is VA policy that access to chiropractic care is consistent with policy for access to any other specialty. Consultation for chiropractic care can be initiated by the patient's primary care provider or another appropriate VA clinician. Referral for chiropractic care will not be subject to requirements or authorizations other than those for referral to any other specialty care at a VA facility or through the outpatient Community Care program.
Chiropractic care at VA facilities may be provided through appointment of, or contracts with, licensed doctors of chiropractic (DCs), dependent upon the needs of the VA facility and consistent with Section 204(e)(1) of the Department of Veterans Affairs Health Care Programs Enhancement Act of 2001, Pub. L. 107-135. The Consolidated Appropriations Act, 2018, requires on-station chiropractic care be provided at no fewer than two medical facilities or clinics in each VISN by December 31, 2019, and at no fewer than 50 percent of all medical centers in each VISN by December 31, 2021.
From fiscal year 2004 to 2017, VA increased its number of chiropractic clinics by approximately 9.4 percent annually, and the number of Veterans receiving on-station chiropractic care increased approximately 18 percent annually. As of June 2019, there are approximately 180 chiropractic physicians providing patient care at 101 VA facilities. Chiropractic clinics are administratively aligned in physical medicine, primary care, pain medicine or other service lines consistent with local facility needs. Additionally, there are five chiropractic residency trainee positions across five VA chiropractic residency training programs, the first and currently only accredited chiropractic residency programs in the United States.
INTEGRATION
Integration of Chiropractic Care and VA/Military Facilities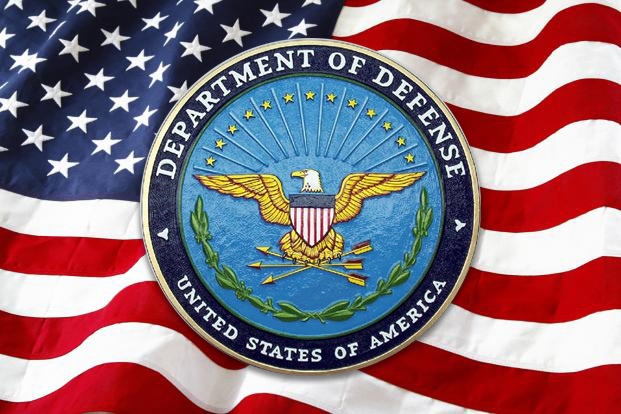 Department of Defense (DOD)
In recent years, in recognition of the value and benefits of chiropractic care, Congress has passed, and the President has signed into law, legislation establishing a permanent chiropractic care benefit for both active duty military personnel and veterans. Furthermore, a doctor of chiropractic is now stationed in the U.S. Capitol to provide necessary care to members of Congress
To date, there is a doctor of chiropractic at 60 military bases around the country; however, according to a 2005 Government Accountability Office report, only 54 percent of servicemen and women eligible for chiropractic care can reasonably access the benefit. It is still necessary more is done to increase chiropractic access and availability.
Veterans' Affairs
A Department of Veterans Affairs policy enforces that veterans have access to chiropractic care. How this service becomes available will depend on the availability of a chiropractic doctor on staff. If a chiropractor isn't on staff, a veteran can ask for a referral to a chiropractic doctor outside the system. While a referral from a physician is necessary the veteran has certain appeal rights.
The Department of Veterans Affairs (VA) has initiated the process of providing veterans with access to chiropractic care by placing chiropractic doctors on staff at VA hospitals.
The VA now provides chiropractic care (via hired or contracted staff) at approximately 40 major VA treatment facilities within the United States. Unfortunately, an overwhelming majority of America's veterans still do not have access to chiropractic care because the VA has taken no action to provide chiropractic care at approximately 120 of its major medical facilities.
Chiropractic Clinics in VA Facilities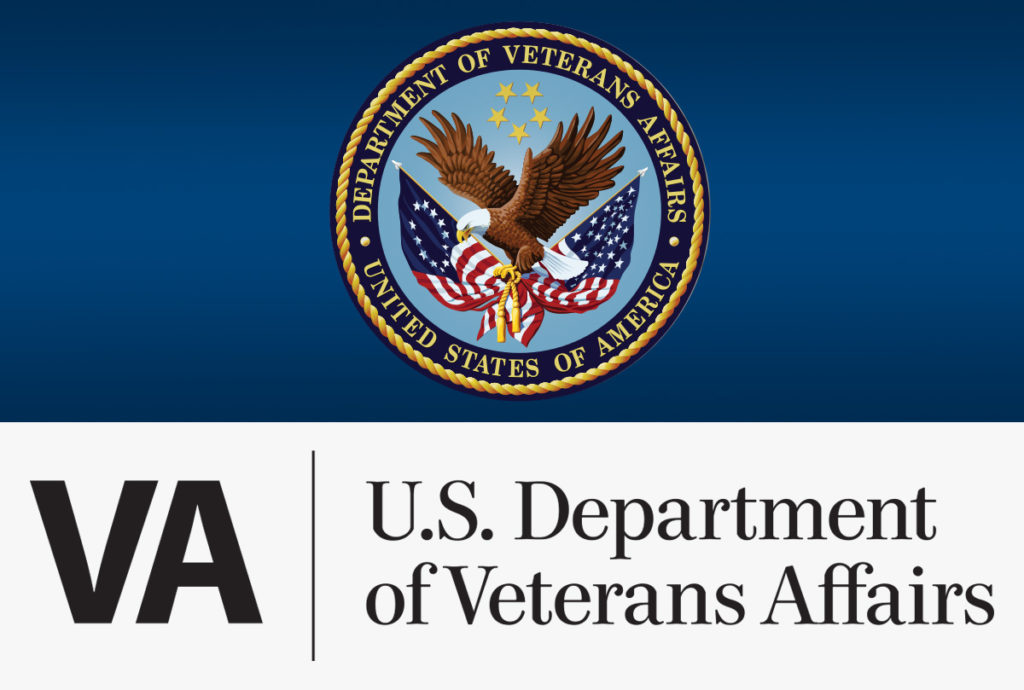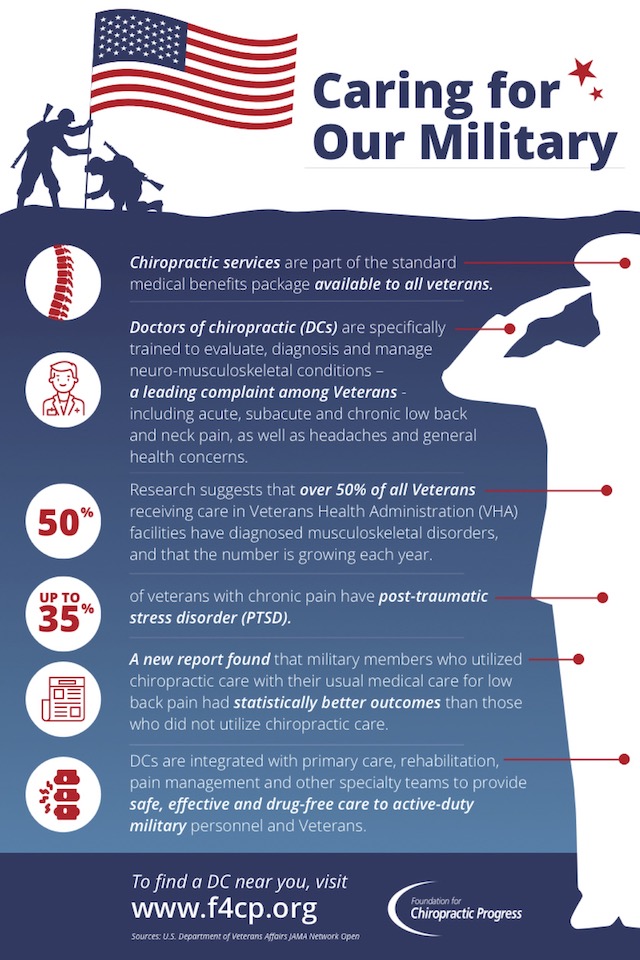 Chiropractic On The Front Lines For Veterans
Doctors of chiropractic (DCs) are specifically trained to evaluate, diagnose and manage neuro-musculoskeletal conditions – a leading complaint among Veterans – including acute, subacute and chronic low back and neck pain, as well as headaches and general health concerns. In addition, DCs are integrated with primary care, rehabilitation, pain management and other specialty teams to provide safe, effective and drug-free care to active-duty military personnel and Veterans.
Military life is fraught with physical challenges. Carrying heavy loads, running with body armor, and jumping out of planes can have a long-term impact on a person's body.  Of the 9 million patients served annually in the department of Veterans Affairs (VA) facilities, more than half experience chronic pain.  25% of Veterans consistently report low back pain (LBP).  Veterans are 2x more likely than non-veterans to die from accidental overdoses of highly addictive painkillers.
Solution: Make chiropractic part of the integrated care that Veterans receive for LBP. The VA now provides chiropractic care at approximately 70 major VA treatment facilities within the U.S. There is currently an effort to require the VA to provide chiropractic care to all its medical treatment centers by the end of 2020.
During 2012-2017, overall opioid Rx reduced by as much as 66% in some VA facilities.  VA now offers non-drug treatment options for chronic pain, such as chiropractic care, which includes spinal manipulation therapy.
Chiropractic care is included in the Veterans Affairs (VA) Medical Benefits Package, the standard health benefits plan generally available to all enrolled Veterans.
Evidence shows teat patients receiving chiropractic care are:
Less likely to use other healthcare services that are more costly and have greater risk, such as opiate medications, spinal imaging and injections, and elective spinal surgeries
Have lower overall healthcare costs for episodes of non-operative spine-related disorders
Eligible Veterans (VA members) can receive chiropractic care through the VA's outpatient fee-basis program after a referral by their primary care provider (PCP), and prior authorization approval by the VA department or the VA third-party administrator (TPA), TriWest. In addition, Veterans can obtain chiropractic care in community chiropractic facilities for musculoskeletal pain and dysfunction.
U.S. Department of Veterans Affairs (VA) 2019 MISSION Act
Starting on June 6, 2019, under the MISSION Act, eligible Veterans will have more ways to access healthcare. The MISSION Act strengthens the VA's ability to deliver trusted, easy to access, high quality care at VA facilities, virtually through telehealth, and within communities. That means that eligible Veterans get the care and services they need, where and when they need them.
Care can be provided within the VA's network and through approved non-VA medical providers in eligible Veterans' communities, called "community care providers." For example, if a certain type of health service isn't provided by VA—eligible Veterans may be able to go to a non-VA provider, using VA coverage.
Eligible Veterans can use VA healthcare services nationwide, including mobile health clinics that serve rural areas and via telehealth. Note: Eligible Veterans need to be enrolled in VA healthcare to use community care benefits.
For general MISSION Act healthcare quesions, contact VA311 (1-844-698-2311).
For additional information, please visit: https://missionact.va.gov/