WHAT NPs Should Know About Chiropractic Care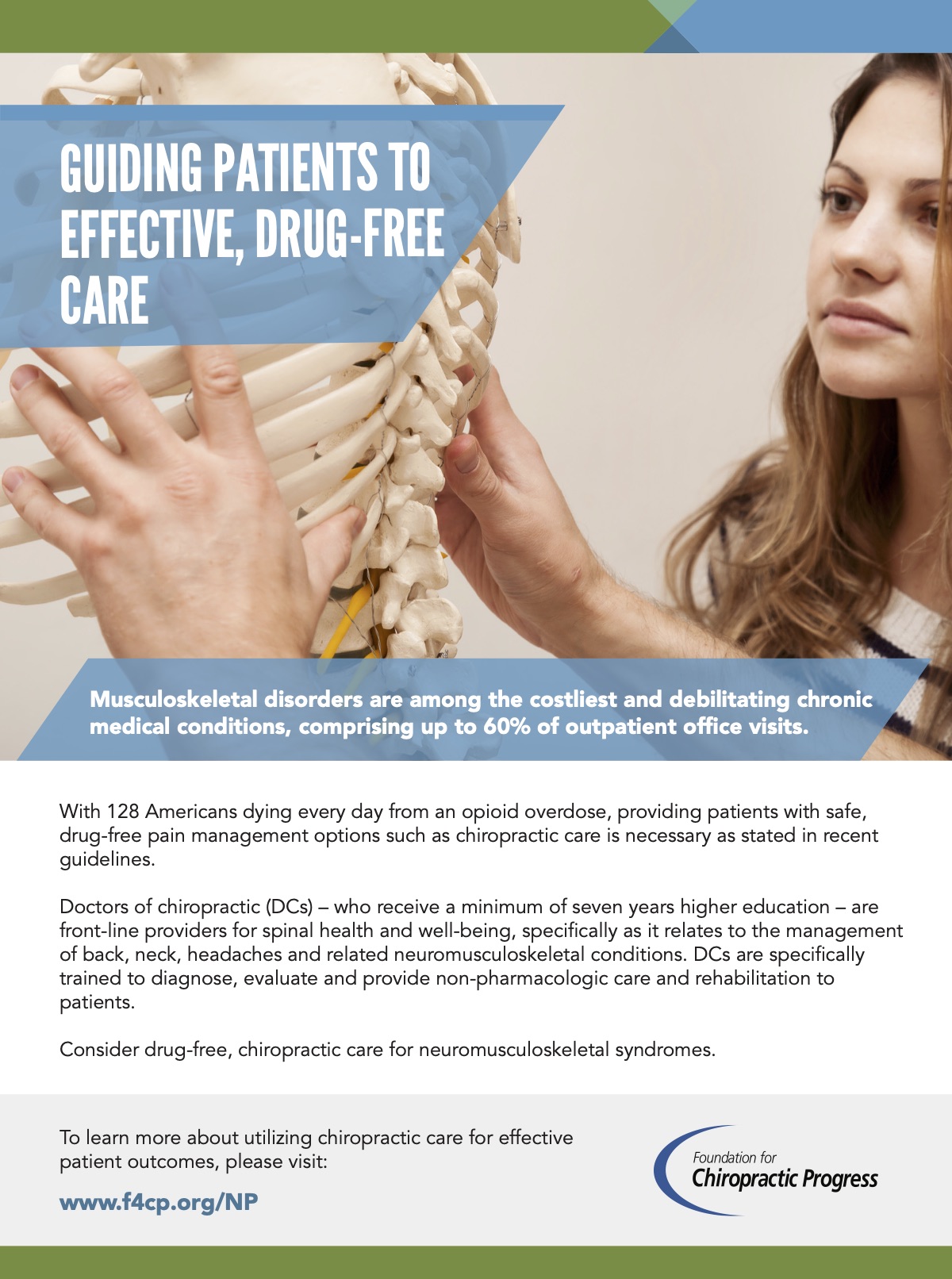 What are the education requirements to be a doctor of chiropractic (DC)?
Doctors of chiropractic are considered primary care professionals for spinal health and well-being. For the license to practice in each state, DCs complete a minimum seven years of higher-level education. The credentialing process for DCs begins with the completion of the four-part examination sequence of the National Board of Chiropractic Examiners, which is then followed by the specific requirements of a given State for licensure to practice chiropractic.
What is chiropractic care?
Chiropractic care is a drug-free, hands-on approach that includes patient examination, diagnosis, care and referral or co-management when indicated. DCs are known for the well-studied care of spinal manipulation (chiropractic adjustment), an intervention in which they apply a controlled specific force to spinal or extremity joints in order to enhance motion and alignment and alleviate pain.
Benefits of chiropractic care
Scientific evidence and clinical experience indicate that chiropractic care offers the following benefits for many patients:
• Reduction of acute, subacute and chronic back and neck pain with improved function
• Reduction of upper and lower extremity pain with improved function
• Relief from certain forms of headache
• Relief from pregnancy-related backache
• Amelioration of many hip, gait and foot problems
• Improvements in general flexibility, stability, balance and coordination
• Improved ability to perform activities of daily living
What do DCs treat?
Chiropractic care is used most often to treat neuromusculoskeletal complaints, but not limited to: back pain, neck pain, pain in the joints of the arms and legs and headaches. In addition, DCs:
• Recommend therapeutic and rehabilitative exercises
• Recommend or apply a wide-range of soft tissue mobilization techniques
• Recommend or apply physical modalities such as heat, laser, ultrasound, electrotherapies
• Provide nutritional, ergonomic and lifestyle counseling
• Some DCs are certified to perform acupuncture
What conditions would an NP refer patients to a DC for?
• Headaches
• Back pain
• Neck pain
• Ergonomic, lifestyle and nutritional counseling
• Disorders of the neuromusculoskeletal system including extremities examples such as: plantar fasciitis, rotator cuff injuries, carpal tunnel
How to Refer to a Doctor of Chiropractic
Referring to a doctor of chiropractic is as simple as 1, 2, 3:
Visit www.f4cp.org/findadoctor and find a few DCs in your area you would like to work with
Request either their CV/Resume or an outline of treatment therapies available in their office. It may be beneficial to request an office visit or a meeting to discuss patient care. This would be an ideal time to exchange cards and/or referral pads.
Determine best way to refer and request for patient follow up (if desired).
To learn more about utilizing chiropractic care for effective patient outcomes, please view the video, "Chiropractic Care on the RISE," presented by F4CP Executive Vice President, Dr. Sherry McAllister: